Dober Dan Keramika!
Slovenia 2018
EXHIBITION: FROM TRADITIONAL TO CONTEMPORARY CERAMICS
THE STORY ABOUT FERMENTATION LOCK
Exhibition is one of the accompanying events of the IV. International Ceramics Triennial UNICUM 2018.
The association Majolika in collaboration with Slovenska Bistrica Culture Institute organises the accompanying event of UNICUM Triennial for the fourth time. The principal theme of the exhibition is tradition as a challenge to contemporary fine art expression. This year the theme of the exhibition is fermentation lock.
Ceramic fermentation locks are a forgotten product of pottery tradition although they are still an indispensable part of the equipment of any winemaker. And what does tradition say? When the cellar through the fermentation locks "sang", the must began to ferment, change into wine and when the cellar "sinks in silence" St. Martin celebrates new wine.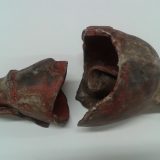 The presented works and awards were selected by the professional jury.
Location: Exhibition hall Grasl Tower, Slovenska Bistrica, Slovenia
Gala opening: Saturday, May 19th, at 11.00
View: Tuesday to Friday, 9.00–17.00 and Saturday, 11.00–15.00 (till September 5th)
Contacts: Association Majolika, E: zadruga.cduo@gmail.com, W: http://keramikacenter.com/
///

OPEN DOORS DAY OF THE ART AND CRAFT CENTRE
Art and Craft Centre in Slovenska Bistrica will open their doors on Saturday, May 19th. They invite you to tour the ceramic studio and experience ceramics from a closer look. Members of the association Majolika and members of Handicraft Cooperative will prepare demonstrations of different technics of making ceramics. There will be workshops for children and the possibility to purchase clay and handmade ceramic products as well as replicas of old pottery products from the programme "From the grandmother's kitchen and grandfather's basement".
The activity of the Art and Craft Centre is based on the preservation of cultural heritage, the transfer of traditional handicraft skills and traditions to the younger generations as well as the development and promotion of modern products. They see their mission in developing artistic creativity and education, and ensuring active spending of free time and enriching the quality of life of all generations.
Location: Art and Craft Centre, Handicraft Cooperative (manor house Slovenska Bistrica), Slovenia
Opening: Saturday, May 19th, at 9.00
Contacts: Art and Craft Centre, E: zadruga.cduo@gmail.com; W: http://keramikacenter.com/; FB: https://www.facebook.com/zadruga.cduo